Labrador Cataracts Treated Without Surgery
Reduce the occurrence, slow down and even reverse the development of cataracts and eye disorders in your Labrador
In most cases cataracts can be surgically removed, but this is generally a very costly and sometimes risky procedure. Treating your Labrador's cataracts with Ethos Bright Eyes™ for Pets can dramatically improve the quality of your dog's eyesight and quality of life, without the trauma, risk or cost associated with surgery.
Dr. Elizabette Cohen's Success with Ethos Bright Eyes™
Dr. Elizabette Cohen
is a New York licensed and U.S.D.A. certified and accredited veterinarian who practices high-quality medicine and surgery all over New York since 1988. She became an Associate Professor of Veterinary Technology in 2010.
Read more about Dr. Cohen below

Ethos Bright Eyes offer many important benefits to the health of your Labrador's eyes and the quality of their vision.
Ethos Bright Eyes N-Acetyl-Carnosine Eye Drops have shown to reduce the occurrence, slow down and even reverse the development of cataracts.
Ethos Bright Eyes offer antioxidant protection against free radical damage associated with other age related eye disorders such as Glaucoma, Macular Degeneration and Floaters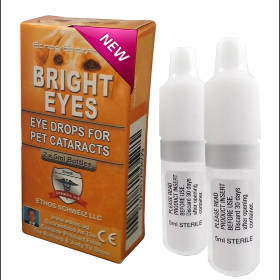 Ethos Bright Eyes lubricate & relieve 'Dry Eye Syndrome', 'Lasik Dryness', 'Tired Eyes', 'Eye Strain' and 'Blurred Vision'.
Ethos Bright Eyes are 100% hypoallergenic and 100% Sterile and contain no animal products.
Ethos Bright Eyes are safe for use by diabetics and compatible with all anti-diabetic drugs.
PLEASE NOTE: Results vary depending on the nature and severity of your pet's cataracts. We highly recommend a course of 3 to 6 months of Ethos Bright Eyes to see a noticeable improvement in cataract reduction or eye disorder.

Buy Ethos Bright Eyes NAC Eye Drops For Dogs and Pets
Special Offer: Save £147.00 on orders of 6 Boxes – From £41.51 Per Box – One Box = 2 x 5ml
Save on Multi-Pack Orders
2 Box Multi-Pack – 20ml (4 x 5ml)
£132.97
Save £6.00
Special Offer – £126.97
3 Box Multi-Pack – 30ml (6 x 5ml)
£198.97
Save £12.00
Special Offer – £186.97
6 Box Multi-Pack – 60ml (12 x 5ml)
£396.97
Save £147.00
Special Offer – £249.97
Order Securely Through PayPal
'Ethos Brights for Dog Cataracts' Customer Reviews and Testimonials
Please note: Results will vary according to the nature of the eye disorder, severity of cataract and application of Bright Eyes Drops.

Click Here For More Information
More Details on Dr. Cohen
Dr. Cohen is a pet expert and behavior modification consultant. She lectures at many libraries for the public and gives more technical talks at veterinary conferences, veterinary technology and veterinary schools. Dr. Cohen received her cum laude B.A. degree from Columbia University and her D.V.M. degree from Cornell Vet School. She has helped animals her whole life.
Dr. Cohen participates in the free spay/neuter program for the A.S.P.C.A. and the Toby Project, and has performed countless surgeries, which help prevent unwanted pregnancies and diseases. She was instrumental in helping to launch the Low Cost Vet Mobile at the ACC (New York Center for Animal Care & Control) in 2009 to help prevent animal surrender.
Dr. Cohen is an active member of the American Veterinary Medical Association, the New York State Veterinary Medical Society, the New York City Veterinary Medical Association and the Long Island Veterinary Medical Association. She serves on several veterinary medical boards.
Dr. Cohen has been the WCBS news radio pet reporter since 2004 and continues to deliver "Healthy and Happy Pet" reports heard every Saturday and Sunday on WCBS880.com worldwide and WCBS 880 AM radio in New York, New Jersey, Connecticut and Pennsylvania. She lives in New York with her family, which includes the family dog.
Visit Dr. Cohen's Website
Labrador Cataracts Treated Without Surgery