Wallaby Kangaroo Cataracts Eye Drops Treatment -Testimonial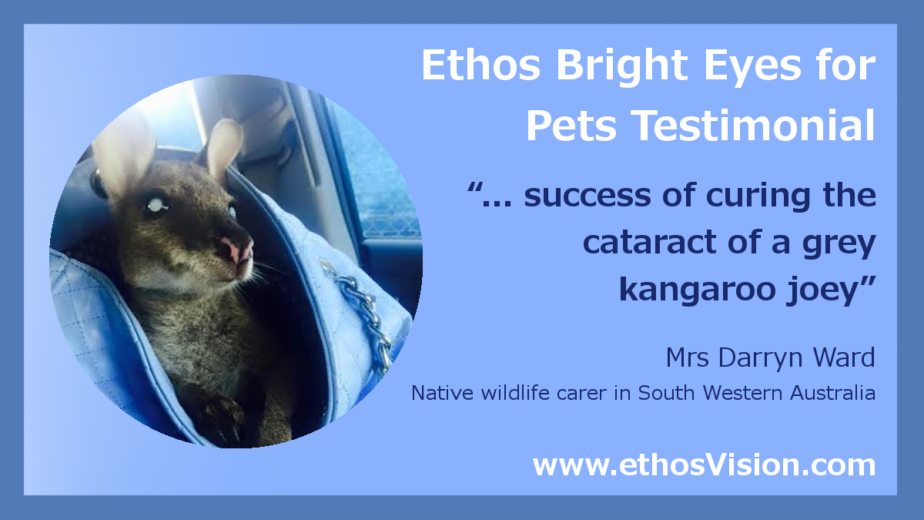 Success of Curing the Cataract of a Grey Kangaroo Joey
**100% GENUINE TESTIMONIAL IN THIS VIDEO**
I am a native wildlife carer in South Western Australia.
In the resent months, I and a number of other carers have reared a number of wallaby\'s and grey kangaroos that have developed cataracts. As it usually occurs after many months of caring it is very tragic and heart breaking.
We are a non profit group of carers our main aim is to raise and release them back to the wild. Every year it is an ethical dilemma whether to raise or euthanase real young joeys due to the high risk of developing cataracts .
Most carers hate to euthanase healthy joeys, but the cost of surgery which is not always successful is out of reach. Cataracts are more prevalent in wallaby\'s this is even more tragic as they are on the endangered species list.
This is why I am desperately writing to you as I have a female black glove wallaby joey which has developed cataract on both eyes in the last 3 weeks.
In our search to find help we came across your advert and testimonial concerning the success of curing the cataract of a grey kangaroo joey.
As there is a number of joeys needing these drop I am respectfully asking if there is any way that you could sale the drops any cheaper, or in a bulk situation it would be fully appreciated.
Regards
Mrs Darryn Ward
PART 2:
Dear Peter
Thankyou for your generous offer we are most grateful. We would be happy to take photos to be used the same way the kangaroo was.
I have a black glove wallaby with cataract in both eyes which has happened in the last 3 weeks.
Another lady has 2 tamer wallabies which has had cataract in both eyes for the last 12 months and one western grey kangaroo joey which has had cataracts in one eye for at least 3 months. Therefore I would like to buy 30 boxes
I would like to order 30 boxes please.
I look forward to the confirmation of this order
Regards
Darryn