The 'LOOK AWAY' Mouse Mat – It's a smart idea
Could this be "The Best Mouse Mat in the World"? Why? Because it was designed to help you develop a new habit that could save your eyesight from deterioration?
Read on to discover why this is a great habit to form when performing close up work for any length of time.
If you regularly use a computer or laptop for long periods of time then the ethosVision Mouse Mat may just help you to maintain better quality vision.
Did you know that prolonged computer use can cause damage to your near and distant vision?
Like millions of computer users you may experience one or more of the following symptoms if you use a computer regularly:

ESSENTIAL VISION TIP: 'The 10-10-10 Rule'
Every time you are performing close vision work for over 10 consecutive minutes, you should 'LOOK AWAY' and focus on something that is at least 10 feet away, for at least 10 seconds … '10-10-10′
Incorporate this simple eye exercise into everything you do up close and this will allow your internal "ciliary muscle" to expand for a few seconds and relieve the near-point stress.
We can easily forget this piece of valuable information, so the ethosVision 'LOOK AWAY' Mouse Mat was created and designed to help you develop the very important habit of periodically looking away from the computer screen.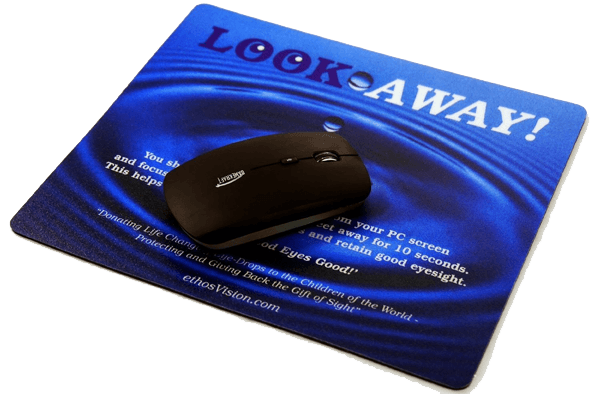 Made with a premium quality hard top and anti-slip rubber base making it suitable for everyday use, gaming and technical precision work. Each mat comes with a 3 Year Guarantee.
What people are saying about the ethosVision Mouse Mat