Ethos Bright Eyes Featured in the UK Daily Mail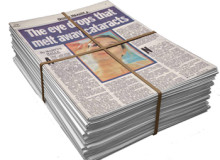 This is a great news article by Martin Halle of the Daily Mail detailing the history and a little of the science behind Ethos NAC (N-Acetylcarnosine) Eye Drops for cataracts.
For ease of reading: Below the article image you will find the exact Daily Mail text transcript.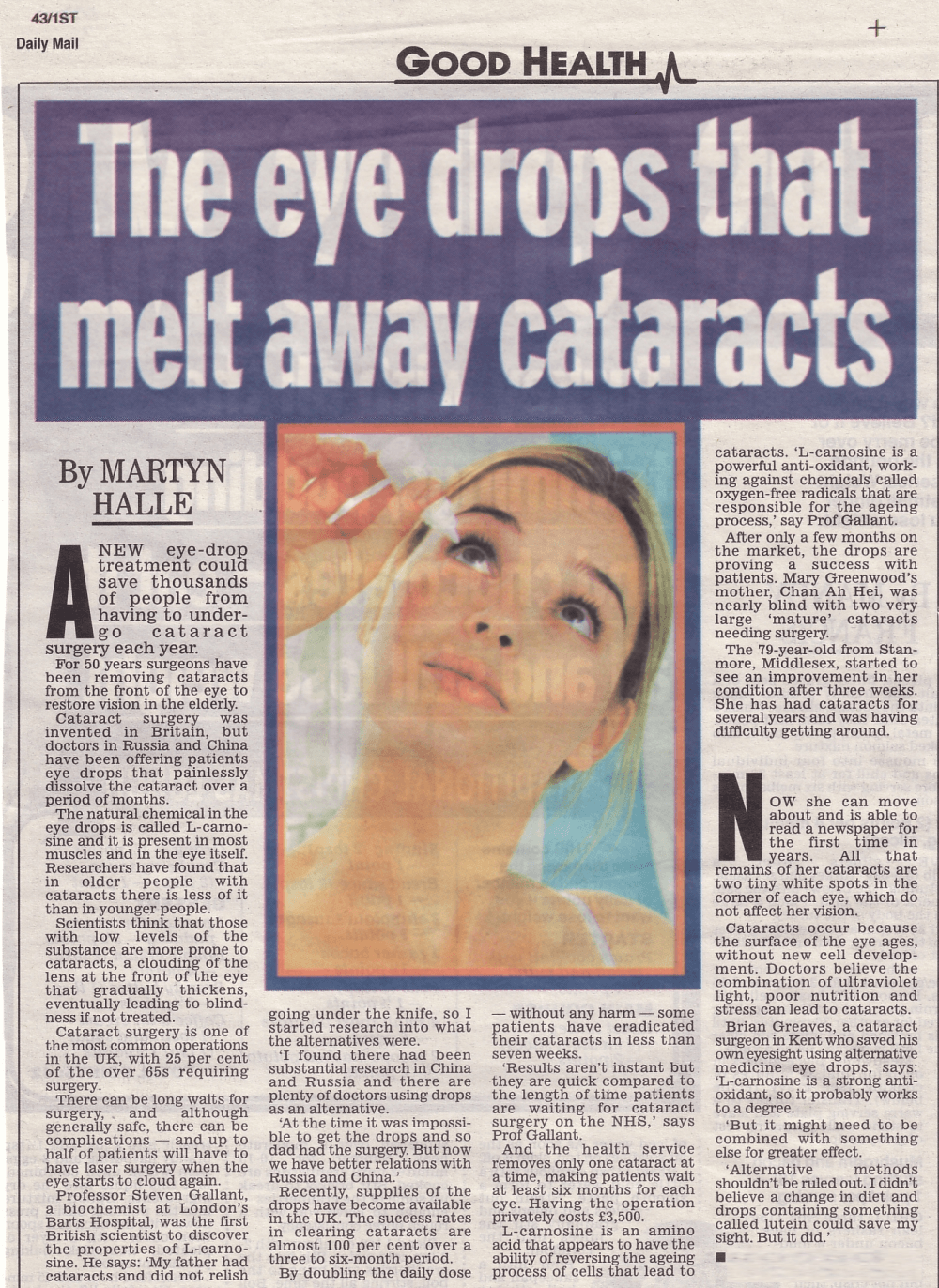 Daily Mail Article
[QUOTE]
A new eye-drop treatment could save thousands of people from having to undergo cataract surgery each year.
For 50 years surgeons have been removing cataracts from the front of the eye to restore vision in the elderly. Cataract surgery was invented in Britain but doctors in Russia and China have been offering patients eye-drops that painlessly dissolve the cataract of a period of months.
The natural chemical in the eye-drops in called L-carnosine and it is present in most muscles and in the eye itself. Researchers have found that in older people with cataracts there is less of it than in younger people. Scientists think that those with low levels of the substance are more prone to cataracts, a clouding of the eye lens at the front of the eye that gradually thickens, eventually leading to blindness if not treated.
Cataract surgery is one of the most common operations in the UK, with 25 per cent of the over 65's requiring surgery. There can be long waits for surgery and although generally safe, there can be complications – and up to half of patients will have to have laser surgery when the eye starts to cloud again.
Professor Steven Gallant, a biochemist at London's Bart's Hospital, was the first British scientist to discover the properties of L-carnosine. He says: 'My father had cataracts and did not relish going under the knife, so I started research into what the alternatives were. I found there had been substantial research in China and Russia and there are plenty of doctors using drops as an alternative. At the time it was impossible to get the drops and so dad had the surgery. But now we have better relations with Russia and China'.
Recently supplies of the drops have become available in the UK. The success rates in clearing cataracts are almost 100 per cent over a three to six-month period. By doubling the daily dose – without harm – some patients have eradicated their cataracts in less than seven weeks. "Results aren't instant but they are quick compared to the length of time patients are waiting for cataract surgery on the NHS", says Professor Gallant. And the health service removes only one cataract at a time, making patients wait at least six months for each eye. Having the operation privately costs £3,500.
L-carnosine is an amino acid that appears to have the ability of reversing the ageing process of cells that lead to cataracts. 'L-carnosine is a powerful anti oxidant working against chemicals called oxygen-free radicals that are responsible for the ageing process', says Professor Gallant. After only a few months on the market, the drops are proving a success with patients.
Mary Greenwood's mother, Chan Ah Hei, was nearly blind with two very large 'mature' cataracts needing surgery. The 79-year-old from Stanmore, Middlesex, started to see an improvement in her condition after three weeks. She has had cataracts for several years and was having difficulty getting around. Now she can move about and is able to read a newspaper for the first time in years. All that remains of her cataracts are two tiny white spots in the corner of each eye, which do not affect her vision.
Cataracts occur because the surface of the eye ages, without new cell development. Doctors believe the combination of ultraviolet light, poor nutrition and stress can lead to cataracts. Brian Greaves, a cataract surgeon in Kent who saved his own eyesight using alternative medicine eye-drops, says: 'L-carnosine is a strong anti oxidant, so it probably works to a degree. But it might need to be combined with something else for greater effect. Alternative methods shouldn't be ruled out. I didn't believe a change in diet and drops containing something called lutein could save my sight. But it did'.
[END QUOTE]
Buy Now on Ethos Vision